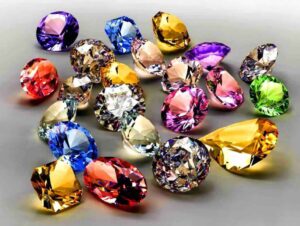 Gemstones are precious minerals found in the form of stones beneath the Earth's surface. These stones have been used for healing and spiritual powers throughout history. These stones help you to overcome hardships caused due to an undesirable planetary position in your birth chart.
Good quality and suitable gemstone affect almost all the aspects of your life. Gemstones are also worn around the world for the sake of beauty. Many people wear blue sapphire rings, emeralds, pearls, and even rubies as jewelry items.
As per Hindu astrology, Gemstones derive their power and energy from the nine planets which means every gemstone has a specific associated planet with it. Gemstones, when worn as per astrological methods, have to be activated by specific mantras and ways to harness the benefits of their ruling planets.
Choose gemstone for your love ones, Genuine and Certified Gemstones
Gemstones with Cosmic Energies
Gemstones are believed to be store houses of cosmic energies, which transmit when the stone gets in contact with one's body and emit vibrations and frequencies which have a strong influence on our whole being. It is always advisable to wear only a suitable gemstone according to your horoscope because, if you wear one that is not suitable for you, it may prove detrimental which may result in troubles in life. Every Gemstone is differentiated based on three essential qualities: Beauty, Rarity, and Durability.
Gemstones Online Store
We at Jitubhaipandit.com offers you a complete range of Astrological Gemstones such as Blue Sapphire, Emerald, Yellow Sapphire, Labradorite,Diamond, Ruby, Feroza, Cat's Eye, Gomed, Onyx, Pearl, Hessonite, Red Coral, Amber, Black Agate, and other precious stones. We highly recommend consulting an expert astrologer before wearing any gemstones. You can directly get in touch with our spiritual healer and renowned Jyotish in Surat; Jitubhai Pandit who will guide you for the suitable gemstone completely according to your birth chart and will let you know the correct procedure and ritual while wearing a gemstone.