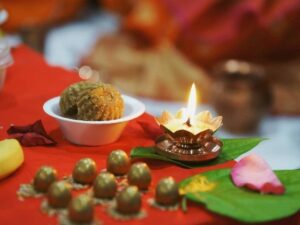 We all know how sometimes things can go wrong for us in our families or houses. Sometimes, there are day-to-day issues that we are concerned about. And we can't seem to help but think whether there is any disturbance over our planets? Or is there anything wrong with the vibes of our home? It might surprise you, but please note that there can be some Dosh in the place you are living. Hence, we offer you a Grah Shanti Puja that will take all your worries, bad influence, and evil eyes away from your home.
Benefits
Grah Shanti Puja gives several benefits to you in bringing a positive environment to your house while pushing out all negative energies. We charge a nominal price of Rs. 5100/- for these services where you can gain benefits as follows:
If you or any of your family members are bearing the negative effect of malefic planets, this puja will help you remove that influence. After this puja, you can feel your obstacles getting out of your way.
There are times when one has to face some problems in his life because of misalignments of the planets. This puja can help you align them and remove any dosh bothering you or your family members.

Grah Shanti Puja is not only about minimizing or eliminating negative vibrancy. It is also about empowering your positive energies and making them more effective. We want your positive effects of aligned planets to shine more through our Grah Shanti puja.

Every individual wants to fulfill at least three aspects of their life. That is health, wealth, and prosperity. Hence, if you are having a hard time in your life from any of these aspects, Grah Shanti puja will help you to nullify it.

These were some of the benefits that you can enjoy from this puja. We are sure that you have got a general idea of what changes this puja brings to you in your life. Now that you know how well it is for you and your well-being, we are sure you are curious about the procedure. Hence, allow us to share the process that we will follow to do Grah Shanti puja in your home.
Procedure
Before we get into procedures, let us cover the best time for Grah Shanti Puja. So, first of all, you need to contact us and give us the details of the person who wants to perform this puja. We would study their Kundli and planets to derive the best date and time for this puja (popularly known as Mahurat). It is crucial to perform it on a Mahurat so you can soak the maximum benefits of it. Now let's get into the procedures of puja.
You have to keep a fast on the day of puja as a mark of your devotion towards God.
Now, we will assist you in conducting the puja and reading the mantras. Please note that the person performing it needs to take Sankalp. Sankalp means a resolution that one should follow from their heart.
Then, you need to offer some flowers, mango leaves, rice, and grain, while praying for the well-being of the house and its members. Remember to recite their names while chanting mantras.
You will be chanting Navgraha Mantra while performing puja and Homam. You need to worship the God of the planet that is weak in your Kundli.
Then, perform the Havan as we instruct and worship the deity.
Please note that you have to donate fresh food and new clothes to the needy. Also, distribute the Prasad to every family member of yours.
The puja ends with digging a pit, placing all the materials used in puja, and covering it.
Hence, this is a brief version of how the puja will happen. Kindly conduct the puja with utmost dedication and devotion to make it successful.